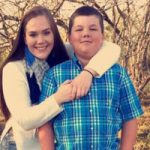 Precinct 1 Justice of the Peace Mike McCleary lost his only grandchildren, Madison and Tanner, in a tragic Jourdanton, TX car accident Wednesday, January 18th.
Our thoughts and prayers are with the McClearys as they come to grips with this unimaginable loss. We are praying God's peace that passes all understanding to surround and comfort this wonderful family.
If you'd like to help, a Go Fund Me page has been set up. You may read more about this family's history in our  community in The Eagle.