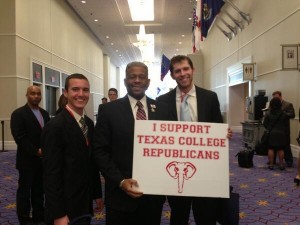 Brazos County Republicans joined together at March's Executive Committee meeting to sponsor A&M College Republicans' Vice-President Brad Head's travel to CPAC in Washington, D.C. It is fitting that the conference title was CPAC 2013, AMERICA'S FUTURE: THE NEXT GENERATION OF CONSERVATIVES, because that's exactly what Brad Head, TAMU class of 2015, represents for us here in Brazos County.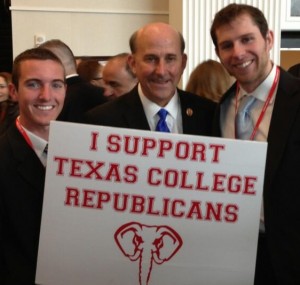 The most memorable part of the trip for Brad was the opportunity to meet people like Allen West and Representative Louie Gohmert, and to hear how excited they were to see a younger generation stepping up to prepare for the future, which ties in with Brad's "perhaps biggest take-home point" from the conference: "The future of the conservative movement lies in uniting with each other; this means stronger communication and a willingness to [put aside what divides us and] work together for the good of the movement. After all, I don't think any of us wants to see another liberal president in 2016!"
Brad extends a "huge thank you to everyone for their generous support—without it, I would likely not have had the opportunity to attend such an incredible and life changing conference." How fortunate we are to have exceptional young folks like Brad here in Brazos County!
Texas A&M College Republicans have one  more meeting this semester and it's this Monday, April 22. They meet in the MSC at 7:00 p.m. For more information, email .