By Justin Bogie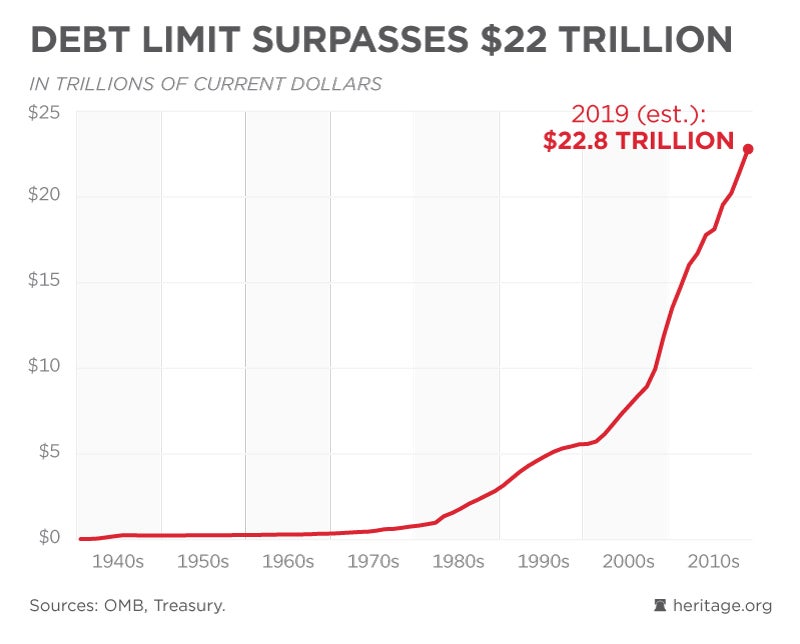 Two major issues that Congress will be forced to confront in the coming weeks and months are the debt limit and the future of the Budget Control Act discretionary spending caps.
A report from The Hill indicates that negotiations are underway between Congress and the Trump administration to combine a two-year budget caps deal with an increase or suspension of the debt limit.
Taxpayers have seen this failed approach before. For
lawmakers,
pairing an unpopular action, like raising the debt limit, with massive spending increases sweetens the deal.
The total national debt is more than $22 trillion. An unpaid
for budget deal could add at least another $2 trillion. Congress should debate the
debt limit and new spending thoroughly and separately. Importantly, lawmakers
must not make the fiscal situation any worse.
As of May 17, the debt subject to the limit was $21.9 trillion and just $25 million short of eclipsing the limit. In total, the Treasury estimates that the national debt has increased by more half a billion dollars since Oct. 1.
For the time being there is no immediate risk that the
federal government will have to stop making payments or providing services. The
Treasury is permitted to take "extraordinary measures" to continue meeting
existing federal obligations so long as no new debt is issued. An influx of
April tax receipts also offered temporary relief.
However, extraordinary measure will last only so long. The
Congressional Budget Office estimates
by fall the federal government will no longer be able to cover its obligations.
Due to Congress' dysfunctional budget process, fiscal year
2020 appropriations and the status of the Budget Control Act spending caps
could also come to a head at the same time.
The Budget Control Act established discretionary spending
caps from 2012-2021, but three separate amendments have raised the caps in
two-year increments. House Democrats have already put …read more
From:: Daily Signal – Feed