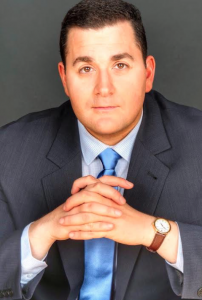 Born and raised in Australia, Nick Adams immigrated to America in 2016, with the United States government recognizing his "extraordinary ability." Nick's first challenge came at sixteen months when he was diagnosed with Stage IV Neuroblastoma, a rare form of childhood cancer, and given just a five percent chance of survival. He defied the odds with a tenacity that would become a hallmark of his life.
This early adversity indelibly shaped his life. As Nick wrote: "It taught me to hope. It taught me to dream. That anything is possible. That no hurdle is too high, no burden too great and no obstacle insurmountable. That every day I breathe is a day that I am in credit and I won't let a second go to waste." Since these early trials, Nick has been blessed with great success in life.
He attended the University of Sydney, earning both undergraduate and postgraduate degrees. While studying, he was publicly elected the youngest Deputy Mayor in Australian history in Sydney, at the age of 21.
Drawn from a young age to the United States, Nick visited America for the first time in the summer of 2009. Since that time, he has spoken  in more than 25 states. He has given major addresses in several countries including England, Germany and South Korea. He speaks fluent German and Greek.
Nick is a best-selling author, columnist and commentator, all achieved before he turned 30. He has appeared on many television and radio programs, including The O'Reilly Factor, Fox & Friends, Sean Hannity, Laura Ingraham, Hugh Hewitt, Glenn Beck, 700 Club,  Dennis Prager  and hundreds more.
His writings have been published in newspapers such as The Washington Examiner and The Korea Times, as well as online at Fox News, The Daily Caller, Breitbart, The Blaze and Jewish World Review.
Nick's acclaimed book The American Boomerang, published in 2014, was endorsed by The National Review, The Heritage Foundation, The Washington Examiner and The Dartmouth Review. Individual endorsements include Gov. Mike Huckabee, Chuck Norris, Dr Ben Carson, Glenn Beck, Dick Morris and Col. Allen West.
His next book Retaking America: Crushing Political Correctness, published in February 2016, was endorsed by Dana Perino, Hugh Hewitt, Col. Oliver North, NRA News, Doug Brunt and WORLD Magazine, among others. His most recent book, Green Card Warrior: My Quest for Legal Immigration in an Illegals' System, was published in November 2016.
Gov. Rick Perry appointed Nick an Honorary Texan in 2013.