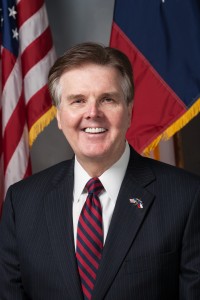 Dan Patrick was elected lieutenant governor of Texas in 2014, winning the general election by almost 20 points, including historic levels of support from both female and Hispanic voters.
A principled and committed conservative, Lt. Gov. Patrick continues to lead the fight to secure the border, reduce property and business taxes, protect our Second Amendment, defend innocent life and address our state's infrastructure challenges to ensure that Texas continues to flourish economically.
In his first term as lieutenant governor, he led the reform of the Texas Senate's 21-vote rule, provided an unprecedented $800 million to help secure our Texas/Mexico border, and provided lasting property and business tax relief for homeowners and businesses. Under his leadership the Senate passed school accountability legislation and championed efforts to pass open carry and campus carry legislation into law.
Dan Patrick is a former Texas State Senator, a successful small-businessman and radio host. He is also a former TV anchor, sportscaster, musician, as well as an award-winningChristian author and movie producer. He has raised over $16 million for children with disabilities through his radio show and started the first seminary in a Texas prison to train long-serving inmates for the ministry.
Patrick has been married to his wife Jan, a former schoolteacher, for 40 years. Their son Ryan is a Harris County Criminal Court District Judge in Houston. Their daughter Shane is a registered nurse. He is also the proud grandfather of four grandchildren.